Blade Chroma "G" RTF (Predajnik ST-10 + sa GoPRO nosacem kamere sa 3 -osovinskim gimbalom). Novo iz BLADE (USA), Quad-kopter, veci, stabilniji, laksi za upravljanje, sa mnogo novih dodatnih opcija.Veci medjuosovinski raspon medju rotorima, 400 mm, veci rotori, pojacan i savremeniji GPS system, sada hvata do 20 satelita, ujedno i USA i RUS satelite na bilo kojem delu planete zemlje, ranije samo USA, od 7-9 satelita..
Super Cena za sve sto dobijate u kompletu !!!
U ovoj promociji dobijate Blade Chroma RTF (Predajnik ST-10 + sa GoPRO nosacem kamere sa 3 -osovinskim gimbalom) + GRATIS Yuneec CGO Steady Grip za snimanje istom kamerom iz ruke, sa gimbalom 3-axe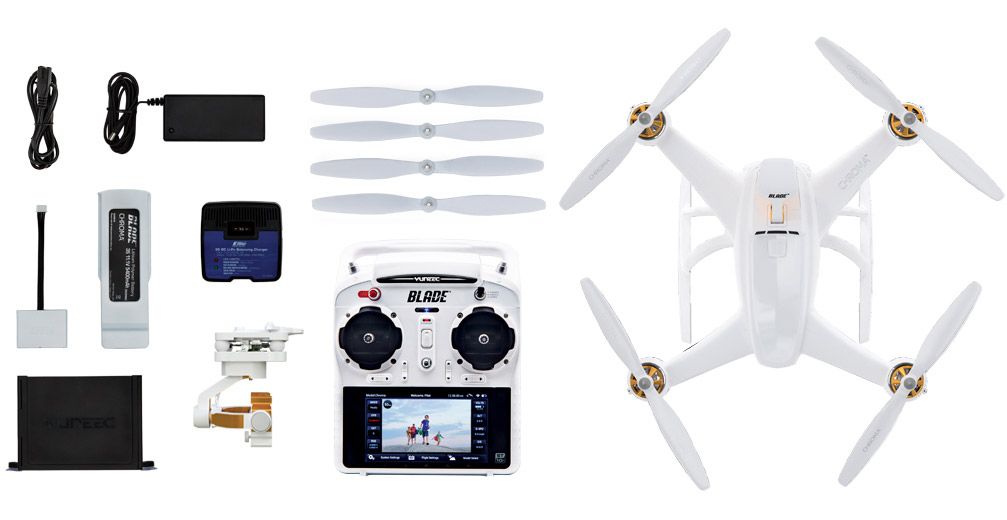 Ima ugradjeno podesavanje elektronske ograde, za obuku pocetnika, kao i za kasnije koriscenje, moze se programirati max. visina i opseg letenja u SMART modu, koji omogucuje SAFE tehnologija.
Na njega mozete okaciti Go Pro kameru, ili CGO1 ili CGO2, CGO2+ (sa gimbalima) ili novu 4K kameru CGO3/Gimbal, koj se mogu i opciono nabaviti, u zavisnosti koji kvalitet snimaka zelite...
Pored ostalog ima i modove kao sto su AP, SMART, pametne komande Stick Relativity, Trackin me, Folow me.. itd..
Nova baterija mu omogucava let do 30 min. i jos dosta novina koje ga svrtavaju u TOP Klasu medju dronovima...
Vise INFO ovde
GoPro-Ready
Bind-N-Fly® Chroma Drone • GoPro-Ready Fixed Camera Mount* • Long-Lasting 6300mAh LiPo Flight Battery 
• Flight Battery Charger • Extra Set of Propellers • USB Programmer Cable
NOTICE: It has come to our attention that during manufacturing we mislabeled the flight battery (BLH8619) for the Blade Chroma. All first-run batteries have a label that states 5400 mAh when the battery is actually a 6300 mAh capacity pack. Future battery production will have the proper label. There is no need to worry as there have been no changes made to the Chroma battery and it has always been 6300mAh.
Look Like a Pro.
SAFE Plus technology gives you several flight modes that have been specially programmed to make smooth, steady image capture easy. In fact, it can make you look like a pro even if you've never flown a camera drone before! All flight modes feature self-leveling and use GPS and altitude sensors to precisely hold position. SAFE Plus technology will even land the aircraft for you if you activate the Return Home function.
Smart Mode

Perfect for first-time drone flyers.

Stick Relativity moves drone in whatever direction the control stick is pushed, no matter which way the nose is pointed
Creates a SAFE Circle™ barrier that prevents the aircraft from flying too close to you
Auto-holds position and altitude when in hover

AP Mode

For more experienced drone pilots.

Responds like a conventional drone without Stick Relativity
Gives you greater control authority by turning off the SAFE Circle
Keeps control response smooth so panning and tracking shots look great
Auto-holds position and altitude when control sticks are released

Return Home

Safe landings with the flip of a switch.

Returns the drone to its start-up point and lands it for you
Great for first-time flyers who aren't ready to land themselves
Easy way to regain visual contact if you lose sight in flight
Resume full control at any time
Activates automatically if controller signal is lost

Adjustable Flight Boundaries

*

Stay legal. Stay safe. Fly responsibly.

Keeps the drone within altitude and distance limits you define
Easily adjusted using the Chroma programmer
Helps you avoid sensitive airspace ...and neighbors

| | |
| --- | --- |
| Motor to Motor Distance: | 15.7 in (400mm) |
| Rotor Type: | Quadcopter |
| Prop Diameter: | 10.2 in (260mm) |
| Approximate Flight Time: | 30 minutes |
| Battery: | 11.1V 3S 5400mAh Li-Po |
| Height: | 9.50 in (242mm) |
| Weight: | 45.9 oz (1.3 kg) |
| Motor Type: | 4 × 780Kv Brushless Outrunner |
| Control Link: | 2.4GHz |
| Video Link: | 5.8GHz |
| Video Link Range: | 1,970 ft (600m) |
| Satellite Navigation System: | GPS, GLONASS |
| Completion Level: | Bind-N-Fly |